Being a friend of the Soviet journalist Sergey Loiko, Arnold visited Moscow in 1988, giving us such a surreal photo. Meet Schwarzenegger, a real post-Soviet man. If besides jokes, the photo really turned out to be amazing. Because Arnold is in it fits perfectly into the late 80's entourage, a not in like in many others, where you can immediately see that a person has come all the way from another country.



A here is another photo also from personal archive of Sergey. Also very lively, transmitting both the time and the style.



In general, Arnie often came to Moscow in Moscow in then time. What is not surprising is that he was a real idol in 80s. And in training halls, and just in apartments and other places you could see the photos and posters carved from magazines. A new time of openness (with beginning of perestroika) and no bans on "everything western" only spurred popularity. Below are a few photos from those times.

In February 1988, Arnold Schwarzenegger in Red Heat:




Photos from press-conferences in Sovetskaya Hotel. I have to say again and again Arnold Schwarzenegger dresses in the style of the USSR of those times:






A here, in that the period of shooting "Red Heat" (February, 88) Arnold visits Moscow sports club "Athletics". There meets Yuri Vlasov: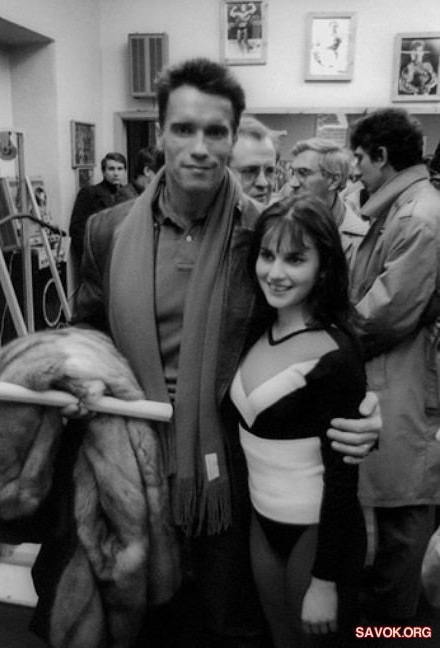 After that meeting the great Soviet weightlifter keeps in his archive a photo of Arnold Schwarzenegger with the autograph: "To my idol Yuri Vlasov, with best wishes":







Author: Ulyashenkov Sergey

Photos from Sergey Loiko's archive, RIA Novosti, from shooting of the film "Krasnaya Zhar" and other photos of different authors were used. Nbsp;photos belong to their owners. The photos themselves are taken from open and public sources.